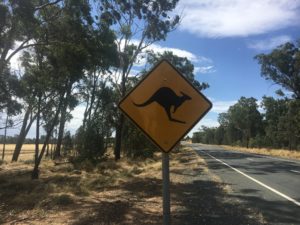 With a population of 280 calling Unagrie a town is a little bit ambitious. This is where Robyn grew up, on a farm in rural NSW. Her mum and dad still live on the same property and we make sure we get back every school holidays to catch up with her folks and to have a change of scenery from Sydney.
I love our trips to the farm, it's also great from a bike riding perspective as it's relatively flat and you can cover long distances without seeing much traffic.
It's not quite the iconic Australian outback, so when you come out of the farm you are on a tar road. If you turn right, go a mere 4 km into town, you can then head in a number of different directions on tar roads.Turn left out of the farm, go 500 meters and the road turns to gravel.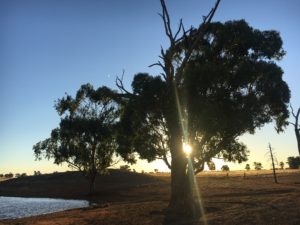 I had only been this way a few times in the 20 years I have been visiting the farm. Robyn had been this way many times before as this is the route the school bus takes. In the morning she was the last child to be picked up by the bus so she only had the short trip into town. In the afternoon she had to came back the long way on the dirt road so she had a 16 km bus ride.
I am not sure if Robyn really felt the need to ride these roads that she traveled so many times before as a child but for me it offered a new challenge. The roads are a mixture of dirt and gravel. Not suitable for our road bikes so we had to find a solution. Turns out that the original road bikes that we bought when we first got into cycling had good clearance so could take 35mm tyres so we were set, a few modifications and we had "gravel grinders".
And so 30 years after Robyn stopped catching the school bus she found herself at 5 am on a January morning riding the dirt roads she knew so well. It's summer and it is hot, a 30c day is considered normal so we were out early to miss the heat. The route I'd planned was a 110 km loop ridden mainly on the dirt. There were a couple of sections of tarmac but mostly it was a mixture of gravel and red dirt. The roads are fun to ride, there are a few rough parts, some sand that has to be navigated and you constantly have to work hard to keep any real momentum. It's a good workout and a different type of cycling.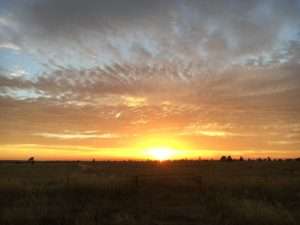 We spent the first hour riding through the dark towards the rising sun. Using our light to pick our way through the various obstacles in front of us we covered Robyn's old school route before turning off down a farm track as the sun finally appeared on the horizon. As it began to heat up, we pressed on through newly harvested fields and past mob's of sheep who seemed surprised to see 2 Lycra clad folk at this time in the morning. A few right turns and 5 hours later and we were back home on the farm.
I asked Robyn if anything had changed from when she was growing up.
"Certainly not the bus route" she replied,
"Not a lot of development going on in the middle of the bush and the shrub looks exactly the same as I remember from all those years of school bus travel. It just feels normal, comfortable and like home."
Just goes to show it doesn't  matter where you have been and what you have done, certain places on the planet just help you to put everything into perspective.
A chance to get up close and personal with Robyn riding her bike, a video of our ride: