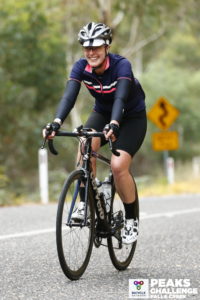 Cycling, as with any hobby, can be seen as a series of firsts.
Your first pair of Lycra shorts, the first time you ride with cleats, and your first ride that takes you further than you'd ever imagined.
Each of these experiences build on each other and depending on how you feel, you will continue to explore your new found world, or assign your investment to the garage (or attempt to recoup some of your investment on eBay).
If you stick with it, then the firsts continue to build: the first time you realise you need more than one bike, the first time you crash and your first mass participation cycling event.
When you have ridden for a number of years, all of these experiences create a data base of information on which you can draw. The focus ceases to be creating new experiences but shifts to recreating the perfect experience. Bike set up, refueling strategies, and ride plans can become your obsession.
And this was how Robyn and I found ourselves at 6:30am lining up for our second Peaks Challenge Falls Creek. Last year was the first time Robyn had attempted anything of this magnitude. It's a one day sportive, covering 235km and 4,500metres of climbing over 3 major climbs.
Robyn's overriding experience of last year, as challenging as it may have been, was of enjoyment. We got around well inside the 13 hour time limit and had enough energy to enjoy post ride drinks in the bar afterwards. This year we wanted to recreate the experience and use it to help get ready for France. We followed the same routine, stayed in the same accommodation and were roughly in the same condition as last year.  The one thing not in our control was the weather. The forecast said "unsettled" with a chance of showers, hot in valleys and possible thunderstorms. The forecast also predicted 40km per hour winds.
We were not riding to any specific time plan, we felt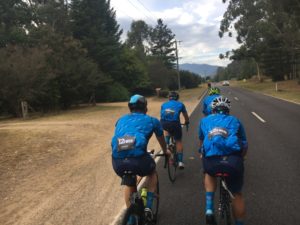 that we would draw on last years' experience and ride within ourselves until the last major climb of the day.
We descended from Falls Creek with the last wave of riders and with a dry road we covered the 30km without any drama. A spin up the first climb of the day, Tawonga Gap, meant that we resisted chasing the other cyclists powering past us. Our strategy seemed to be working as we were able to sit behind the 12 hour pace makers for a tow up to the second major climb, Mt Hotham.
We started the climb in good spirits and rode to Robyn's metronomic pace. About 45 minutes into the climb Robyn began to grimace. The pace began to slow considerably and moral slipped lower as each cyclist past us by.
I've never seem Robyn in so much discomfort on her pushbike. Fortunately she was experiencing another first – a hunger flat!
75km into our 235km day we found ourselves stopped by a SAG Wagon that was ready to cart her away if a miracle can of coke could not fix her. Robyn drank and ate more sugar in those 5 minutes than a group of 4 year olds let loose at a birthday party.
I asked Robyn if she really wanted to continue. "Not really" she replied, "but the thought of having to live with having given up is worse". And so she got back on her bike, clipped back in and got on with the rest of the ride.
90 minutes later, having climbed Hotham, the old Robyn rode into the lunch stop. The sugar hit had done its job and the smile was back.
The descent after lunch into Omeo had the 40km wind working in our favour. Pushed by an invisible hand the enjoyment we experienced from riding last year was back. This was bought to an abrupt halt as we turned out of Omeo into what was now a head wind. It was hot, windy and we had a 40km ride to the start of the final climb.
There was nothing for it but to put the head down and push on. We arrived at the foot of the final climb feeling the strain of the 200km we had already covered. The first 9km of the climb are tough, the average is about 9% with some steep sections. We were climbing it 30 minutes behind the time we had ridden last year. This meant there were fewer people on the climb and most of them were off their bikes walking.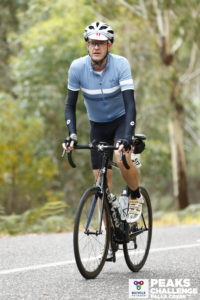 We pushed on and experienced another first. One of the other riders was walking up in thongs (flip flops). As Robyn rode past enquiring if he was OK he casually explained that last year he had worn out a nice pair of socks so this year he came prepared. Now that is planning!
In the race briefing the night before we had been given some advice from an endurance mountain bike champion, she told us that pain was just an emotion and unless you need an ambulance then you can just keep going. Clearly people had taken her seriously and as we climbed further it appeared that some folk had literally ridden themselves into the ground. The couple of ambulances making their way up and down their climb had their work cut out. Fortunately it appeared that most people once they were checked out did not need to be immediately carted off the mountain so they were given a space blanket and sat looking vacantly into the distance waiting for a bus to come and get them.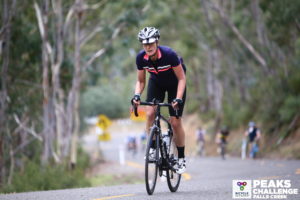 Despite Robyn's earlier hunger flat and how she was feeling, she ignored my motivational offer to flag her down an ambulance and just kept going. She didn't get off her bike once.
We got to the summit and rode the last few KM's back to Falls Creek in the wind, rain and beneath darkening skies. We crossed the finish line tired, exhausted and relieved.
History had not been repeated, despite our planning and preparation we were 38mins slower than last year and yet we feel a greater sense of achievement. This was the first time that I have been genuinely concerned for Robyn's well-being on the bike. She was extremely close to calling it a day when she went hunger flat, but she dealt with it and completed what she says was her toughest day on a bike.
It is a great wake up call for France, we need to keep putting in the km to get ourselves to France in the best condition possible. It doesn't matter how tired we may feel or how challenging it can be, if we don't need an ambulance then we will just keep riding.
In case you missed our training update covering our Peaks experience here it is:

You can make your donation below and send us an email with your address to mailto:robyn@ratherberidingmybike.com and we will pop an exclusive Rather Be Riding My Bike tea towel in the post to you. We have covered the costs for the tea towels and will pay for the postage so all your money goes to help out those that need it.
To donate click here:
http://uk.virginmoneygiving.com/BenReeve