Today was the first real day of the tour.
Yesterday we had a ceremonial ride in the traffic around Düsseldorf to kick us off.
It took us an hour to get around the time trial course which will take the professional minutes. Obviously the roads were not closed for us and with a peloton of 50+ people it would have made an interesting and potentially annoying spectacle for pedestrians and traffic alike as we crept around.
The general mood of the bunch was relief to get out and some frustration at not have a proper ride. That was all fixed today as we rode 200 km to Liege in Belgium.
Today was windy but dry. The first 40km or so to the first feed stop is a social affair as we ride in smaller groups and everybody waits until we all arrive before we head of for the rest of the day. It's a great concept as you get to chat and meet your fellow riders mixing the varies abilities.
After the feedstop it's game on. We are all here to ride our bikes and the goal is to complete what we have set out to do. The challenge is to do this and to also enjoy yourself along the way. The other challenge is that when you put a bunch of bike riders together, naturally the pace can go up. Taking turns on the front and rolling through allows you to cover more ground quicker than if you are on your own. It's fun, makes sense and can also mean that you are so focused on the wheel in front you can easily miss what is around you.
A Lycra glad backside, a carbon fibre bike and a bit of tarmac can look the same wherever you are in the world. Though I must say the roads are superb as they are ready for the professionals.
So as we chewed up the kilometers today, there were times when I did wonder if I should just sit up, drop off the back of the bunch and enjoy the surroundings. Tough call to make on day one when you really want to get it done and back to the hotel to prepare for day two.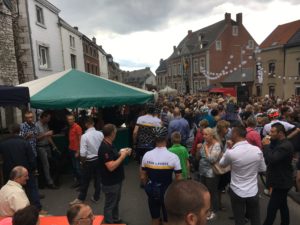 Fortunately we were forced to slow down when we had to dismount to make our way through a village fair. The entire village was out and the narrow streets were packed, we walked our bikes through the festivities to many bemused looks.
As I passed a stall selling sausages cooked over charcoal the natural instinct was to stop, put my feet up and have a beer to go with the deliciously smelling sausage that would have been well earned after 180km. There was a brief moment of debate amongst a few of us about being here to enjoy ourselves and one beer wouldn't do any harm, but sense prevailed and we got back on our bikes and rode the final 20km into Liege.
The wind made today tough and given that it's the first time most of us have actually met and ridden together there is already great camoradary. We all know it's not a race, the trick is going to be finding the balance between riding hard to get the job done and taking time to experience the countryside and villages that we will travel through. As the days build on each other and we clock up the KM my sense is that we will be so knackered we won't have much of a choice but to take our time.