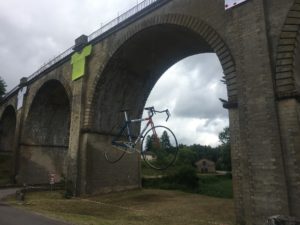 At our first feedstop today the chatter and general demeanour was likened to being outside the exam hall. Lots of nervous people, waiting with anticipation for our first real climb of the tour. Had we done enough training, how would we feel and would we be able to pass the test?
There was no cheating the final climb of the day up the La Planche Des Belles Filles. After cycling 152km it is a 5.8km climb with an average of 8.7% gradient with the final couple of hundred meters at around 20%.
It was tough but I felt surprisingly good. I am cycling OK and rode well within myself as I am still not sure how things will play out into the coming weeks.
I take confidence I that I can comfortably sit in with most of the riders on tour. At the end of the day it's about getting around and making sure that the people on tour with you do the same.
The biggest cheers were for the final riders who were finishing on top of the hill. As they rode the final hundred meters home up the final ramp they were supported all the way. We were all delighted to see everyone achieve what they set out to do.
That's what the Tour De Force is all about.