Most of us on tour have not ridden this far in a week. We have been on tour for 8 days and covered 1,450km.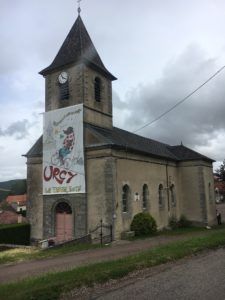 Stage 7 was another tough day. We rode most of the day into a headwind with the occasional downpour punctuating the drizzle. It was tough but the tour spirit shone through with people working together in groups to complete the day.
One of the main reasons I enjoy riding my bike is for the solitude, the time to be in my own and to get away from everything. In the last week I have really come to appreciate the value of being part of something. The encouragement and support that you are given and can offer is absolutely what makes something like this so special.
On the flatter stages working as a group really helps. As the roads head up into the mountains, and then down, the group dynamic changes. People tend to climb at different paces so the trick is to find the folk that are similar to you. This means you are riding in smaller numbers but still have others to share the load when required.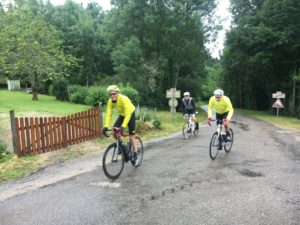 The weather made stage 8 even more challenging than the 190km and the 3,300m of climbing should have been. It was wet and cold all day,  not so much of a challenge when climbing but when descending. The first priority is to stay upright, then descending is about bike handling skills and "bottle". I am a conservative descender at best and in the wet I back right off. The challenge can be it takes you longer to get down and also you can get cold. Wet, cold and tired is not necessarily a good combination when you are doing 60km down a hill and for me this is the toughest part of any day in the mountains. Having the wheels of confident descenders to follow makes things a whole lot easier, another benefit of being part of a group.
Today I wore every bit of cycling kit I bought with me, 2 jackets, 2 sets of arm warmers, overshoes and knee warmers and I was still cold at times. The group I was riding with stuck together up and down the hills, and when we finally arrived at our hotel tired and relieved there was a real sense of achievement.
I have a few aches and pains but nothing that will stop me tackiling one of this years most challenging stages.Stgae 9 has 3 big mountain climbs and 180km to cover,  the threat of rain agin means I will be looking for folk to work with and to stick by.