Robyn declared that today was her toughest day on her bike ever! Big call given some of the one day rides she has done but she puts it down to sheer mental fatigue as much as anything. I did ask if this had anything to do with me but she assured me it was just the intensity of the riding.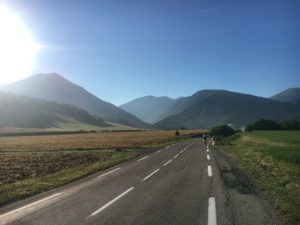 The body was willing but the mind can play some funny tricks. She still rode well up some challenging climbs but I could see she was suffering more than usual. In total we rode 203 KM and climbed around 4,600 meters. The enthusiasm that she has shown for the rides so far just wasn't there today. But she kept her poker face on and just ground out the KM's.
We also had an interesting mechanical to deal with at Feedstop 3. This was at about 143 km into the day with one big climb ahead of us. Robyn was a bit concerned about her brakes and gears so asked Ian, one of the mechanics, to have a look at it. When he removed the wheel the rear derailleur fell off, the derailleur hanger had broken. Poor Ian was devastated as he thought he may have done it but it had just cracked. Fortunately Robyn was carrying a spare so very calmly just produced a new one for him to fit. He was amazed at how calm she was and also that she had a spare with her. There was still some problems with changing gears once the bike had been assembled as we could only seem to get into 8 out of the 11 available working. Some more expert attention and the mechanics were at least able to get 8 of the easier gears working so Robyn could ride up the last climb.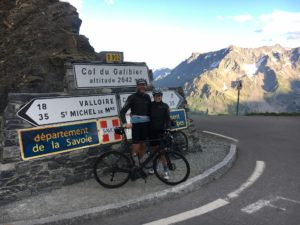 We lost an hour getting the bike fixed so we were now chasing the day. We set off for the final HC climb of the day The Col du Galibier, a mere 17.7km at an average gradient of 6.9%. This is a bit deceptive as it starts of flat and gets progressively harder. We were on the climb about 6.30pm and spent a couple of hours making our way up it. One of the benefits of being a little latter was at least we had very little traffic. We reached the summit and the final food stop to be greeted by magnificent views and a hot cup of coffee.
We rugged up and descended the final 30km of the day back down to our hotel. We set off at 7.20am and arrived at the hotel around 8.45pm. By this time Robyn was feeling more upbeat and so she should after battling through what everybody agreed was a big day.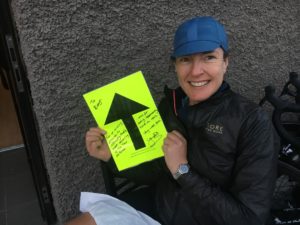 To cap it all off she was also awarded The Arrow, an award from the TDF organisers for people who demonstrate the right spirit on tour, for being so calm during her mechanical crises and also for being as tough as nails.
A quick dinner, a shower and we are ready for Stgae 18, our final mountain stage tomorrow. All's well, that ends well.