Over the last year I have written a lot about riding with my wife.  I thought I'd get Robyn to share her perspective with you.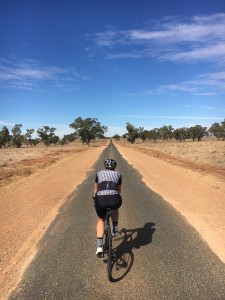 My mother tells people that I ride my bike because otherwise I wouldn't get to see my husband. He's alright my other half, but I'm not going to invest huge amounts of time and energy just to stare at his backside or hope that he might actually talk about anything other than average speed, cadence and how mentally prepared I am!
At Uni I always rode a bike and later on when I lived in Dublin for 5 years it was my main means of transport. Moving to Sydney, working, getting married, having children and just the noise of normal life just seemed to take priority over anything else.
I have watched at close quarters Ben's midlife crises; first the running, then I lived through the subsequent damaged knee and finally laughed our loud when he first appeared in Lycra. The reality was that I ended up living with somebody who was happy to parade around in public with the anatomy of a Ken doll.
Mostly I was just pleased that he seemed happier and had something to occupy his time. We still managed to do all the things we wanted to do as a family so I let him get on with it. Then one day he suggested that I should get a road bike.
Why not I thought and I picked up my shiny new bike in November 2013. At first it was a novelty being on something that was sleek and fast. I enjoyed learning to ride it, how to use the gears and waddling around in in my cleats at the café like all the other Lycra clad wanabees.
We'd get up early on a Sunday, ride for a couple of hours, I'd get to see the city from a different perspective and always felt I had earned my breakfast.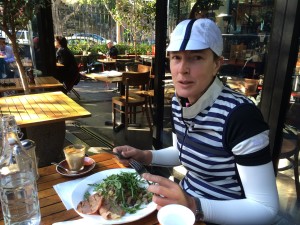 Then one day at the start of 2014, at one of our favourite café stops, Ben asked me what my goal was.
"To get home, do the washing and have a quiet afternoon", I replied.
"No what's your cycling goal?", he asked.
"I don't have one, do I need one?"
"Well why are you riding at all?"
This stumped me a little, I rode my bike because it was fun. It was also very easy for me, all I had to do was agree to getting up at 6am on a Sunday with my delighted husband who was genuinely pleased that I'd go for a cycle with him. He did everything else I just pedaled.
Now at 8am on a Sunday morning over my latte and mushrooms on toast I'm getting interrogated about my cycling vision. Somewhat reluctantly and just to shut him up I settled on the concept of getting fit, Ben's eyes lit up: he had a plan.
Little did I know that over the next 2 years my metamorphosis from occasional social rider was going to entail serious amounts of time in Lycra, see me take my bike on our family holiday's and acquire an extensive wardrobe of bike related clothing that is even better than my husbands. It has culminated in me riding the Peaks Challenge at Falls Creek a few months ago, a 235km ride in a single day over some big mountains. A result that I am proud of and well worth the time and effort.
Once I uttered those fatal words, "I'd like to get fit", things changed. Here are the key revelations that I made along the way.
Make The Time For Yourself
My initial fitness regime involved "Turbo Time". Sounds impressive but basically it means sitting in the spare room on a turbo trainer for hours pedaling. Ben had discovered some approach which required me to ride at a certain heart rate (MAF training or something, I've never cared what was behind it just loved the fact that it got me fit and I lost a lot of weight in the process). It might sound dull but compared to cooking, running the girls around or other boring chores I soon learnt this was my time.
The wonders of modern technology meant that I could spend the hour long sessions watching my IPad and completely disconnected to whatever was going on in the house or around me. Downtown Abbey, Gavin and Stacey and all of The Game of Thrones were consumed in my quest to build a base.  A couple of these sessions a week and a ride or two at the weekend and I was ready to take on some bike challenges.
Play The Bike Card
Linked to making time for yourself is the wonder of "The Bike Card". If your husband is a certified bike nut who takes great delight in not only his exploits on his bike but yours as well then you find yourself in a very powerful position. The normal delineation of duties around the house can easily get reassigned if there is an urgent bike related matter. For example if the girls need a lift and I haven't been on my bike yet, then clearly my bike session needs to take priority and Ben has to step up. You just need to work out what you do and don't want to do around the house and play the bike card.
Own Your Goals
As I got fitter and enjoyed the time on my bike we began to look for some events to participate in. Rather than a gentle first event mine was a 165km lumpy ride, The Fitz's Classic Challenge, in Canberra. I had ridden enough to know I would get around, it was more a question of how I would feel and in what shape. We had a great day and I was delighted to finish in a respectable time and to feel a sense of achievement at my first big event. With this ride under my belt the thought of riding the Peaks Challenge was discussed. Ben had done it twice before and had really enjoyed it, it would be a big challenge but if I trained he felt I could complete it.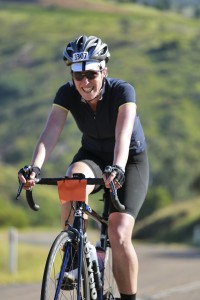 As part of our training we did The Fitz's Classic again a year later. This time I was considerably faster but crossed the finish line feeling completely underwhelmed. Unlike the year before, where just getting around was an achievement, this time I had high expectations for how fast I could go. As I talked this through with Ben we realised that unintentionally he had been pushing me as he was trying to get me ready for the Peaks Challenge. Rather than owning my ride I was trying to please him and not communicating how I was actually feeling; which was knackered and disappointed, despite going faster.
I realised that I had to own my training and rides from then on. My goal became to get myself in the best physical condition I could so that I could enjoy the Peaks Challenge. Ben would plan our rides and then I would be responsible for altering them based on how I was feeling. On the road I was to communicate exactly what I wanted him to do. If I felt good we would go faster. If I needed to, he would slow down. I didn't need to be motivated or screamed at I just needed to know that he would do what I felt I needed to get round and enjoy myself in the process.
Prepare To Be Surprised…
One of the side benefits of getting into cycling with my husband has been how attentive he has become. Not so much to me, after 19 years of marriage some things you don't need, but to my bike and my wardrobe. I have never once had to clean my bike , fix my bike or do anything other than just ride it. He takes care of it all.
The normal household budgeting policy has also gone out of the window if new bike kit or new bike parts are required. The more I have pedaled the fitter I have become and the leaner I am. I need a new wardrobe. Not a murmur from the Household Treasurer.
And then for my birthday last year something very expensive turned up, something round, shiny and delivered in some serious packaging. In fact 2 of them, brand new carbon fiber wheels, custom made and personalised to match my bike with my name on them. If you asked me 19 years ago if that would have been the perfect birthday present it might have been grounds for divorce. The reality is he absolutely nailed it, my very own little black numbers!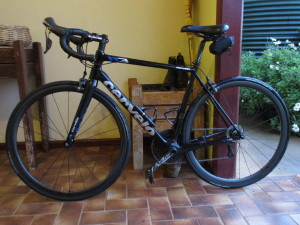 Enjoy, Enjoy, Enjoy…
Nobody makes me ride my bike. I do it because I want to and because I enjoy it. I enjoy being fitter, I enjoy the time I get to spend doing something for myself and I enjoy being able to achieve the goals I set. The Peaks Challenge was just the result of doing what I love, riding my bike. I am fortunate that it is also the thing that my husband loves and we can indulge together. It's something that I will continue to do and will continue to get excited about where and what we can ride. There is talk of doing the other Peaks rides and also a trip to Europe next year. Yes, it will be something to do with the Tour De France and I wouldn't want it any other way.