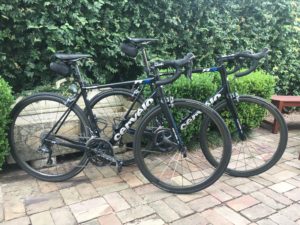 "Cool?", I asked my teenagers.
 "Not cool!", they replied in unison.
 "But we will look like we are from a proper team, we could get matching kit."
 "So not cool", came the reply.
We had not set out to get matching push bikes. In fact until this week we didn't, we had the same brand but from different years and different colours so there was enough difference for it to be relatively unnoticeable.
Then I found a crack in my frame and the nice people at Cervelo agreed to replace it under warranty.
I offered to upgrade to a more expensive, different frame but they wouldn't play ball and provided a replacement frame the same as Robyn's.
So now we have matching bikes. A very, very, first world problem but something that I am having to manage. I do understand that this is more of an issue for me and nobody cares, but…
Maybe this is the excuse I need to buy a new bike for France next year.