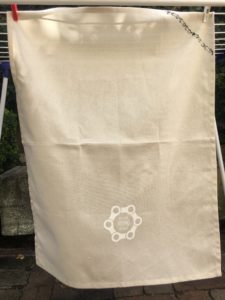 It doesn't matter how much money we spend on fancy bikes and fashionable kit, we have to acknowledge that we are just a couple of middle aged folk indulging ourselves.
We can try and look the part all we like, the fact is that when it comes to our biking endeavours it's only the sheer volume of training we are doing and pure determination that will get us around France. Pace, power and youthful exuberance is something that only passes us on the road. On the many occasions after we have tried to hang on to the back of a bunch, and been emphatically dropped, we console ourselves by observing that we could probably be their mum and dad.
The generation gap has also been highlighted in our fund raising approach. We thought we needed a bigger social media base and had to connect with a wider audience. We have pestered our teenagers to broaden our appeal by liking and sharing to their friends and networks, "but really dad why would they be interested?" When I stopped to think about it I had to agree.
So to assist us with our fund raising efforts we wanted to offer something that sits with who we are and speaks to our demographic. After much deliberation it was the youngest teenager that hit the jackpot on our trip back from Adelaide.
"You know how much you love tea towels, they've got some good ones in that shop, you should also make TDF ones to offer in exchange for a donation".
We do love a tea towel, we collect them. There I've said it, the secret is out.
It started when we went out to a gig a few years ago (even writing that makes me a little uncomfortable, we were trying to stay young!).
The band didn't appear until 10.30pm, it was way past our bed time and a tad too loud, so we retreated to the back of the venue. Whilst we watched from afar Robyn noticed they were selling tea towels on the "Merch Stand" (this is how the teenagers tell me I have to refer to the merchandise offering) – I am also reliably informed by our teenagers that buying merch is still cool when you go to a gig, maybe not tea towels though.
And so it began, seemingly a number of bands offer tea towels as part of their merch collection and as our teenagers spread their wings and head out to different events more tea towels appear on their return. And of course they are a staple at every place you visit, so tea towels from different locations now grace our kitchen.
A few years ago I would have thought this was a bit of a joke, "I went away and look I got you this tea towel", but the truth is they bring genuine delight.
Standing in the kitchen using the tea towel you get to think about the story behind it. I know that sentence could be seen as wrong on many levels – Don't you have a dishwasher? Why are you doing the drying not the kids? Don't you have a life?
All I can say in my defence is that every tea towel, and every story that they come with, makes me smile.
So to help with our fundraising we are playing to our strengths. You donate to support our ride and we will send you a unique hand printed "Rather Be Riding My Bike" tea towel.
Every time you pick it up you will not only be genuinely delighted by Robyn's creative screen printing, including greasy bike chain imprint, you can also think how you have supported two old codgers get around France for a good cause.
Maybe it will be the start of your own collection?
You can make your donation below and send us an email with your address to mailto:robyn@ratherberidingmybike.com and we will pop one in the post to you. We have covered the costs for the tea towels and will pay for the postage so all your money goes to help out those that need it.
To donate click here: