"Life is like riding a bicycle. To keep your balance, you must keep moving."
― Albert Einstein.
I have a list of things that we need to do before we get to France. Last week I booked our flights from Sydney to the UK so we can start our adventure.
When Robyn and I booked our flights to come out to Australia almost 20 years ago we had to go into the travel agent and they issued us with paper tickets. At the time this was a memorable event, we sat behind a desk in the trusted hands of the travel agent as they guided us through the options and then they turned to their beige blinking monitor and started pushing buttons into a proprietary reservation system. Once this was complete they wrote out the tickets.
It was exciting and ended up being a life changing event.
Last week I sat behind my own desk, logged in to my Qantas Frequent Flyer account, accessed the families' profiles and in literally 3 minutes I had completed the transaction.  I didn't think much about it, I ticked it off the list and moved on to the next item.
It was only over the weekend that I began to realise that booking the flights was in fact another step closer to the reality of what we have signed up for this summer.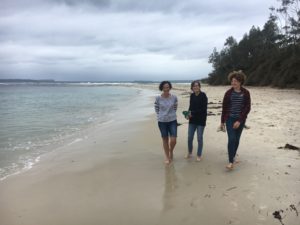 We spent the weekend away with some of my old school friends and their families who all now live in Sydney. Every year we head out of Sydney down the coast to Huskisson. We stay in cabins near the beach and it's a weekend that we all look forward to.
It can be too easy to get into the routine of everyday life and when you add a significant training schedule on top of this, the weeks can just pass you by.
Weekends away like this are a circuit breaker. A chance to step back, to catch up, to reminisce about the past and to talk about the future.
We have been making this annual pilgrimage for the last 12 years and for 8 of those we have had a theme. This started when the kids were little as a bit of fun and we have just kept it going. This year's theme was Sherlock Holmes. So 16 of us spent the weekend wearing a Deerstalker hat celebrating a 13 year olds birthday and an 18 year wedding anniversary.
We did take the bikes and Robyn and I were up and out at 5am on the Saturday morning weaving our way down the road. Feeling a little under the weather from the night before, we headed out to climb up into the local hills as a final hit out before we begin to taper for our big weekend down in Victoria in a few weeks.
Even the fact that we can think about tapering is still mildly amusing to me. It sounds like we know what we are doing.
Given what we have ahead of us in France we could easily just keep clocking up the km's. We want to do our trip to Falls Creek justice and be as fresh as we can to tackle the 235km and all the climbing. The objective is to have a good day out and then use it to kick back into our training for France.
We rode in the dark for an hour to the foot of the climb, it's a challenging climb of about 5km and a 9% gradient. Fortunately instinct kicked in as we headed upwards the legs took over from the dusty head, allowing us to grind our way up into the low clouds. As we hit the cloud line and the mist turned to drizzle I finally woke up to what we were doing.
Climbing up was not going to be too much of a challenge, despite the hangovers we have enough km in our legs already this year to rise to the occasion.
What about getting back down?
It is a fast, technical descent and doing this in the wet, in the clouds and with a cloudy head was not going to be a smart move. I stopped abruptly. My Garmin said the gradient was 12% so it wasn't hard. Robyn rode up beside me, "what's wrong?" she asked.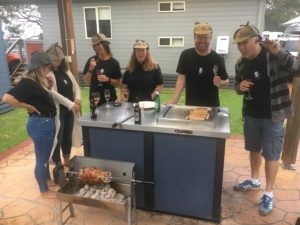 I explained my thought process and she agreed, we gingerly turned around and crept down the hill, hanging onto the brakes for dear life.
Sometimes being in balance is not about pushing on, it's about knowing when to slow down to gain your balance before you can go faster. We hit the coastal flats and flew back as the legs woke up and the clouds lifted from the road ahead and our heads.
We arrived back just as the others were getting up for breakfast.
"How far have you been?"
"Just 70km today"
"Oh just 70km"
And that's how far we have come, an aborted 70km spin doesn't feel much like a workout these days, but it's still an achievement.
And with a spring in our step we walked on the beach, opened a nice bottle of white for lunch, and rounded it off with a siesta before resuming the festivities for the evening.
Sometimes you have to stop and remember that it's the experiences we have today, that make the memories for tomorrow.
Staying in balance is also about staying conscious to what is going on around you and being able to recognise the progress that you are making. It's not just about ticking things off of a list.
A sense of achievement comes at the end of the journey but it's the experiences along the way that make it memorable.
Can somebody please recount these wise words when I am in France and concentrating on ticking off the stages? I think I may need to be reminded along the way.
You can make your donation below and send us an email with your address to mailto:robyn@ratherberidingmybike.com and we will pop an exclusive Rather Be Riding My Bike tea towel in the post to you. We have covered the costs for the tea towels and will pay for the postage so all your money goes to help out those that need it.
To donate click here: