Robyn's first tour experience was a 218 km ride, climbing 4,464 meters. If you have ever been skiing think about the car or bus trip up to the resort, today we climbed a couple of them and a few other hills as well.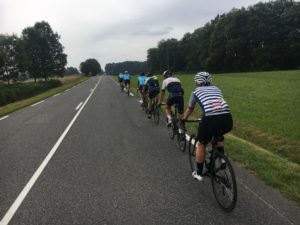 It was a huge day and we did exceptionally well. There will always be times during any day when it gets really tough. On one earlier climb it was hot and the switchbacks were 12-13% in gradient. I could see Robyn was working hard, but she just kept going. Once we reached the summit she ate and drank as if her life depended on it, it could well have done, and then took everything else in her stride.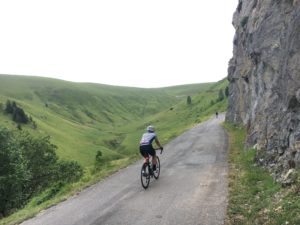 We finnished our day riding up to the ski resort of Peyresourde and after eleven and a half hours of riding we were greeted by the most fantastic sunset and marvelous mountain views. We arrived at just after 9pm after setting off at 7.20am, a long day indeed.
There were people on tour who were not able to complete today and others who came in well after dark, that's how tough it was.
As we climbed up the final road to the chalet we are staying in we both said how thankful we are for being able to spend our time doing something that we love. Yes it is bloody hard but once you step off the bike and have a shower and get something to eat with your fellow travellers all the pain disappears.
As an added bonus we are going to sleep in bunk beds tonight, we can't be bothered to make the double sofa bed up.